Thunderbird Country Club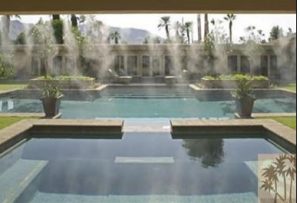 Welcome to Thunderbird Country Club!  Founded in 1951, the prestigious Thunderbird Country Club became the first 18-hole member-owned country club in the Coachella Valley. Offering a spectacular setting in a premier Rancho Mirage location, the 24-hour, guard-gated Thunderbird Country Club incorporates California's history and heritage, including the 50's era of Hollywood celebrities (Frank Sinatra, Bob Hope, Ginger Rogers, and other notable personalities), elegance, exclusivity, and fun in a warm and friendly milieu.
Members enjoy a beautiful, renovated clubhouse, fine dining, championship golf, unparalleled tennis, a state-of-the-art fitness center, luxurious spa treatments, and numerous activities and events. The beautifully re-envisioned Thunderbird Country Club provides the unique atmosphere preserved from years past in a newer, more modern environment that appeals to today's Rancho Mirage residents and club members.  Click here to learn more about Thunderbird Country Club & lifestyle…
For Information On Thunderbird Country Club
If you would like to set up a private showing or would like more information about any of these Thunderbird Country Club, please give Elaine Stewart, REALTOR® a call today at (760) 668-2399 or email her at Desertrealestate1@yahoo.com.  Elaine will be more than happy to answer any questions you may have including pricing, property details, community information, financing options, and more!
Thunderbird Country Club
Thunderbird Country Club is comprised of luxury condominiums and beautiful, executive single-family homes featuring golf course frontage. Most homes in Thunderbird Country Club offer classic California-style ranch architecture with additional elements that blend perfectly with their natural surroundings. Many of the homes have been updated and modernized and feature numerous high-end design features. Prices for Thunderbird Country Club homes start from around $750.000 on up to the millions. HOA Dues: $3500 annually.
Thunderbird Country Club offers an atmosphere of fun and relaxation along with an abundant array of world-class lifestyle amenities including an elegant 48,000 Sq.ft. Clubhouse, a 6,600 Sq.ft. state-of-the-art Fitness Center, an all-inclusive Tennis Program and facility, and a pristine, 18-hole classic golf course. Thunderbird Members can enjoy breakfast, lunch, dinner or happy hour in an inviting outdoor setting, while taking in the incredible mountain views or dine in one of the beautiful Clubhouse dining rooms (Grille Room, Halfway House Grille, and Dining Terrace).
Members can also enjoy a round of golf, play tennis, get a massage in the fitness center, or play cards in the Ladies' Card Room or in the Men's Grille. Thunderbird's Exclusive Membership is by invitation only, member-sponsored, and prospective members must be approved by Thunderbird Country Club. Thunderbird is open to Members and Guests Only.
Thunderbird features a classic, 18-hole course originally designed by John Dawson and Larry Hughes, and redesigned in 1987 by renowned Ted Robinson. There is also a driving range, chipping and sand practice areas, putting greens, and a fully-appointed pro shop as well as golf lessons and various tournaments and events. The "Women's Invitational" and the "Out of This World" have been annual mainstays since the club opened in 1951. Thunderbird is also the birthplace of The Bob Hope Classic, also known as PGA Tour's Humana Challenge. Golf Membership: $50,000 approx.; $21,150 annually. Golf Annual Dues: $14,580 approx.
The Fitness Center at Thunderbird features the latest strength training and cardiovascular equipment and offers numerous classes such as Spin Classes, Fitness Fusion, Movement & Muscle, Booty Bar, Yoga, Yogalates, and more. Members can also enjoy luxurious spa treatments, scenic hiking tours, dance classes, basic defense, personalized training, and more. Thunderbird's Tennis Program provides an atmosphere of fun and friendship. The program accommodates all levels of play and is perfect for beginning to advanced players. Private, semi-private, and specialized group tennis lessons are available.
In 2003, the Thunderbird Clubhouse was remodeled, creating a modernized version of the original clubhouse, while preserving its charm and elegance.  The Club offers an assortment of fun activities and social events for members such as Tuesday Casual Dinners in the Grille, Art Gallery Shows, Guest Speaker Series, Bridge, Art Class, Mahjong, Bunco, Wine Tastings and Wine Dinners, Men's & Women's Golf Choose Ups, Men's Guest Days, Women's Guest Days, Fitness Center and Activites, Tennis Tournaments and Events, Golf Tournaments and Events, and more!
The Cottages at Thunderbird Country Club are for the exclusive use of its members and guests. Surrounded by lush greenery, the cottages have 2 bedrooms, dining and living area, a fully equipped kitchen, and bath. The cottages can be rented on a daily, weekly, monthly, or annual basis and are perfect for family visits and out of town guests.
Thunderbird Country Club are in close proximity to shopping, restaurants, The McCallum Theater for Live Arts (10 minutes away in Palm Desert), shopping at El Paseo, Westerfield Mall, or The River (5-10 minutes away), Eisenhower Medical Center (5 minutes away), and The Palm Springs International Airport (20 minutes away in Palm Springs).
Please give Elaine Stewart, REALTOR® a call at (760) 668-2399 today!  Elaine can provide you with more information about available listings and help you decide if Thunderbird Country Club is the best fit for your lifestyle preferences and needs.  With over 25 years of experience in real estate, Elaine truly enjoys helping people in the process of buying or selling a home!
You may also like to consider these other premier communities in Rancho Mirage:
Category: Blog, Communities, Homes For Sale, Rancho Mirage Homes For Sale